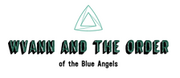 Wvann and the Order of the Blue Angels
is a superhero comic book series published by
Icon Comics
, an imprint of
Marvel Comics
, that was created by
LmxWvann07
.
The premise of the story focuses on a man named Carson Morrison who, upon discovering he has Kree heritage, undergoes an experiment for a secret government agency that gives him superhuman abilities which he uses to defend other regions of the Andromeda Galaxy alongside a diverse extraterrestrial police force.
Characters
More characters will be added
Trivia
The series is abbreviated as WatOotBA.