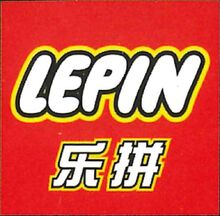 LEPIN is a Chinese knockoff product of LEGO. Their products are notably of lower quality than LEGO's, and their set designs are also often taken from LEGO, with the theme's name being changed by one letter, if at all.
LEPIN Customs of LMMCU Sets
Cave Crawler
Farm
Robert Jacob
Crafting Box
Fights with the Wyvern
Diamond Mine meeting
In the torture chamber
Winter Hideaway
Afghan desert camp
Hell castle
The building of the steele I
Decayer Battle
Wyve The Portal Of The International Chamber Of Commerce
Jungle Tree Fort
Dlab city
The Adventurer
Members Of The Joint Undertaking
Other Knockoffs of LMMCU LEGO Products
The Murder Of Saad, Ayman Nein: Two Saad Ayman Nein minifigures in a car with one Ecranian soldier on a motorcycle with an assault rifle. See this to get the idea.
Robyn Jade sacrifice in her eyes: Robyn Jade with a pair of scissors and two Mixel eye tiles.
Fight the Zombies in the house: Literally just 10761: The Great Home Escape but with Robert Jacob, Robyn Jade, a Shoggoth Zombie, and Santa di Scuillo.
Bucket-Wheel Excavator: Literally just the LEGO Creator Bucket-Wheel Excavator but with a minifigure of Krischaan al Valahudda.
Snake s**ts the bed and DIES: "Snake" sitting atop a bed with reddish brown studs on it.
The fight with the Shoggoth zombies: 76067: Tanker Truck Takedown but with Serpent, Robyn Jade, Robert Jacob, and a Shoggoth Zombies.
WW111
Maddin 8 Fight: Scott of Was in his Maddin 8 Robot and Relaxed Alex in his Awesome Child Robot
Trivia
The LEPIN factory and warehouse were raided by police, with the owner getting arrested for counterfeiting LEGO.
Community content is available under
CC-BY-SA
unless otherwise noted.