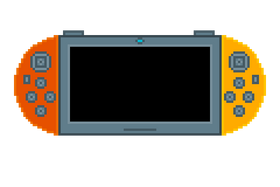 The Blaze Oblong is a portable handheld gaming console, tablet, and gamepad developed by Nostalgic Games for Trail Blazer Studios as an add-on to the BlazeBox.
The console was released on March 3, 2018.
Features
Can play digital BlazeBox and Blaze Oblong video games.
Can also play Digital HD copies of films and TV series through Firestar.
A slot used to connect USB and NFC cords.
Online apps available through the Nostalgic Network.
Can be hooked up to a docking station where it can charge and can be used in two modes:

Console mode: Used to connect to the BlazeBox as a gamepad.
Mobile mode: Used as a portable handheld gaming console and tablet.
Community content is available under
CC-BY-SA
unless otherwise noted.